Blog: NUON CHEA AND POL POT: THE SECRET DEAL
Author: Rob Lemkin
Created: 6/13/2011 12:00:00 AM
In our film Nuon Chea relates the story of how Pol Pot became the Khmer Rouge leader. Nuon Chea says he allowed Pol Pot to leapfrog him in the Khmer Rouge hierarchy because of the latter's superior intellect. But there is another crucial element which we cut from the film for narrative simplicity and which has been the subject of fierce debate among historians. We will discuss this new information later on in this blog. But first some background. In 1962 Nuon Chea was Brother Number 2 in the hierarchy of what was then the Workers' Party of Kampuchea (it was Prince Sihanouk that dubbed them Khmer Rouge), he was in charge of rural membership. Pol Pot, responsible for urban work, was Brother Number 3. Their leader was Tou Samouth, a former Buddhist monk and veteran of the Cambodian independence struggle.
PICTURE: Tou Samouth, Pol Pot's predecessor as Khmer Rouge leader.
According to Sambath's interviews with Nuon Chea, Tou Samouth was due to be evacuated to the remote province of Ratanakiri because the secret police of Sihanouk and Lon Nol were clamping down on both the open and underground wings of the revolutionary movement. One day Nuon Chea cycled round to Tou Samouth's house with some party documents. His wife told Nuon Chea her husband had gone to the market to buy medicine for their sick son. He had been gone awhile. Nuon Chea immediately suspected something was wrong. "I rushed home as quickly as I could, looking behind me all the time in case I was being tailed". Assuming that Tou Samouth may have been in the process of giving up details of the Khmer Rouge organization under torture, Nuon Chea immediately arranged to move house along with his family. He informed Pol Pot who did the same and they both arranged to evacuate Tou Samouth's wife and sick son. "If she had stayed there, she would have been arrested and tortured, and she might not have borne the pain like her husband".
Who killed Tou Samouth has also been the subject of fierce debate among historians. Ben Kiernan believes it was done by Pol Pot himself as part of his takeover of the part. But in Nate Thayer's 1997 interview with Pol Pot he called Tou Samouth 'a good friend'.
Sieu Heng, a former leader of the Khmer communist movement and, coincidentally, Nuon Chea's uncle by marriage. (He was married to Daeng Cheung, younger sister of Nuon Chea's mother. Daeng Cheung is only a little older than Nuon Chea. We filmed scenes with her and Nuon Chea in 2007 and 2009 which will appear in our next film Suspicious Minds).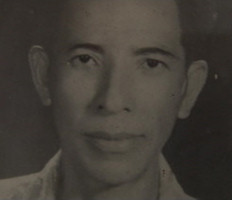 PICTURE: Sieu Heng, Nuon Chea's uncle.
David Chandler describes Sieu Heng as a 'gambler and bon vivant'. In 1959 Sieu Heng defected from the communist movement to Sihanouk's government. In fact, he later told a US state Department official that he had made secret contact with Sihanouk's defence minister as early as 1955. Sieu Heng had been responsible for the party's rural membership. Looking back later, the Khmer Rouge leadership realized their rural base had been steadily eroded during those years. It seems this was due to its leader being a double agent.
Before Sambath, the historian who had done most to investigate Sieu Heng's role in the death of Tou Samouth was Stephen Heder. Nuon Chea's aunt, Daeng Cheung, told Heder that her husband 'gave information about Tou to "Lon Nol's subordinates" and that he brooded about Tou's death for which he felt responsible, although he blamed it on "rogue elements" in Lon Nol's entourage whom he expected would interrogate Tou but not kill him'.
Nuon Chea explained to Sambath how his uncle became a liability for him. 'There were a number of party members, especially people in the Pracheachon group – not the underground – who suspected me because I was the nephew of Sieu Heng who betrayed the party. Two people who were particularly suspicious were Keo Meas and Non Suon.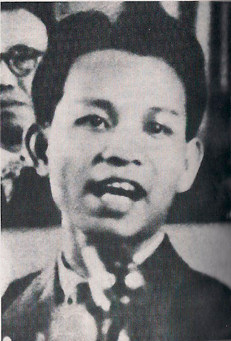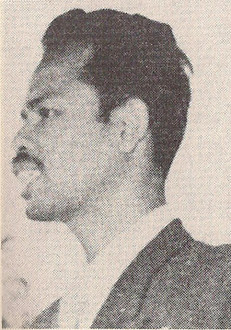 PICTURE: (top) Keo Meas and (bottom) Non Suon, both later executed by the Khmer Rouge in 1976.
This brings us to the missing piece of the story of how and why Pol Pot became leader. Nuon Chea told Sambath 'They were voicing a lot of suspicions about me because of my uncle. So I thought it would have a negative impact on the party if I became leader. So one reason I suggested Pol Pot take over was to have a clean part, with no splits. The other reason was for better qualified leadership. But the deal was that we joined hands to work together and the party was not under just one person'.
Nuon Chea's desperate aim to achieve a 'clean party, with no splits' is grimly ironic in light of the appallingly murderous splits that rent the party and the country asunder in the 1970s. How the Khmer Rouge might have progressed if Nuon Chea had become Brother Number 1 instead of Pol Pot's deputy is a great 'might have been' of history. (We will consider his comments to Sambath on this in a future blog). What is clear, however, is that as a result of their special deal, Nuon Chea took and continues to take full responsibility for even the most secret decisions of Pol Pot. Another Pol Pot biographer, Philip Short, has an alternative version which we were unable to put to Nuon Chea before he was arrested in September 2007. Short, citing unnamed Vietnamese sources claims Nuon Chea was under a cloud not only because of his traitorous uncle but because of allegations of misappropriation of party funds. Nuon Chea then became depressed and withdrew from party work for a year. Although this allegation was not put, Nuon Chea's account to Sambath details his intense work in building up the rural membership after the killing of Tou Samouth, Pol Pot's predecessor as Khmer Rouge leader. There is no mention of depression at this point.
Nuon Chea's uncle has a further part to play in this story. In 1975, by then a very sick man, he was arrested by the Khmer Rouge and executed. Nuon Chea's aunt believed her own nephew had ordered the killing that made her a widow. This is a major scene in our next film Suspicious Minds but we will also reveal more in a future blog as it sheds much light on the conflict at the heart of the Khmer Rouge, the conflict that led to the Killing Fields.
Future blogs will include:-
Nuon Chea's last words to his family
The truth about Po Chrey, the execution site where the Khmer Rouge Tribunal found evidence of war crimes, genocide and crimes against humanity by Nuon Chea and the other surviving Khmer Rouge leaders. Sambath and Rob investigated this site for 3 years and interviewed 6 perpetrators there for a long series of scenes that were cut from Enemies of the People but will appear in the DVD extras when the DVD is release in October 2011.
Reflections on the Khmer Rouge Tribunal's Closing Order, and the Court's attempts to use our film as inculpatory evidence.
Did Nuon Chea kill his uncle?



---

References:

Ben Kiernan, How Pol Pot Came to Power , Yale 2004, p198

Nate Thayer Pol Pot Trip 2 Interview 'Copies Des Rushes' BETA SP K7 #15/16 cited in Steve Heder, Cambodian Communism and Vietnamese Model Vol 1, White Lotus 2004, p208 n82

David Chandler, Brother Number One: a Political Biography of Pol Pot, Westview 1999, p213 n37

David Chandler, Brother Number One: a Political Biography of Pol Pot, Westview 1999, p57

Steve Heder, Cambodian Communism and Vietnamese Model Vol 1, White Lotus 2004, p208 n82 These men were openly political (unlike Pol Pot and Nuon Chea whose political activities were secret). Non Suon was actually in prison when Tou Samouth was killed. Both men were later purged as pro-Vietnamese and executed by the Khmer Rouge at S-21 in 1976.

Philip Short, Pol Pot: the History of a Nightmare, John Murray 2005, p141

ECCC, Closing Order 002/19-09-

2007-ECCC-OCIJ/No: D427 pp 175-8, pp 625-627 nn3017-3069







About this Blog
Thet Sambath and Rob Lemkin have spent many years making Enemies of the People and its sequels, the first insider account of the Killing Fields of the Khmer Rouge in Cambodia. This blog assembles further information and analysis based on their work.