Blog: NUON CHEA'S LAST WORDS TO HIS FAMILY
Author: Rob Lemkin
Created: 6/20/2011 12:00:00 AM
As we show in our film, over a period of years Nuon Chea came to regard Thet Sambath as part of his family, perhaps almost a surrogate son.
In July 2007, two months before his arrest, Nuon Chea was very unwell and feared the worst. 'I could die any day and I haven't finished telling you the whole story. So ask away. I have no-one else to tell. Sai [Nuon Chea's son] has limited skill and he knows it. My children know something of business but they have little awareness of politics'.
In fact, Nuon Chea's three children (two daughters, one son, now in their 40s) received only basic education. This was in stark contrast to the children of fellow Khmer Rouge central committee members Ieng Sary and Ieng Thirith. Their children were sent to Beijing where they were educated to university degree level. (One of their children is now a senior provincial politician in Pailin). Nuon Chea's children, Sai, Thoeun and Leng, received the same very basic education as ordinary children in the Khmer Rouge liberated zones of the 1970s.
For many years Nuon Chea's children bitterly resented what they saw as their father's callous neglect. They often told Sambath secretly how angry they were with their father.'Why didn't he even help his own children?'
Sambath became an unlikely intermediary in this family dispute. He told them:'Your father meant well for you, but as a top leader of the revolutionary movement [Pol Pot's deputy, no less] he believed he should lead by example. He feels sorry for you, but he doesn't know how to talk to you about it'.
The children's resentment festered.
In August 2007, knowing his arrest was imminent, Nuon Chea called his family together and explained his actions for the first time. Regarding their education (or lack of it) he said he had done what he believed was right. Just because he was a top leader, it didn't mean his children should get preferential treatment. He said he was sorry that they didn't get a fuller education. But what they got was the same as everyone else. And for many poor children, he said, Khmer Rouge education was a great improvement on what went before.
Nuon Chea's children accepted their father's apology. They were pleased he had spoken to them about it at last. For the first time they understood what he had done. They even felt sorry for him.
This rapprochement happened about three weeks before Cambodian police came to arrest Nuon Chea on suspicion of war crimes and crimes against humanity. Later prosecutors added the charge of genocide in what lawyers are calling 'the largest prosecution since Nuremberg'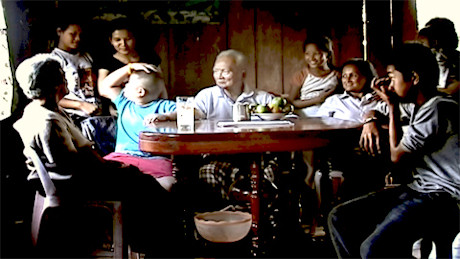 PICTURE: Nuon Chea surrounded by his family.
Comments (0)
About this Blog
Thet Sambath and Rob Lemkin have spent many years making Enemies of the People and its sequels, the first insider account of the Killing Fields of the Khmer Rouge in Cambodia. This blog assembles further information and analysis based on their work.